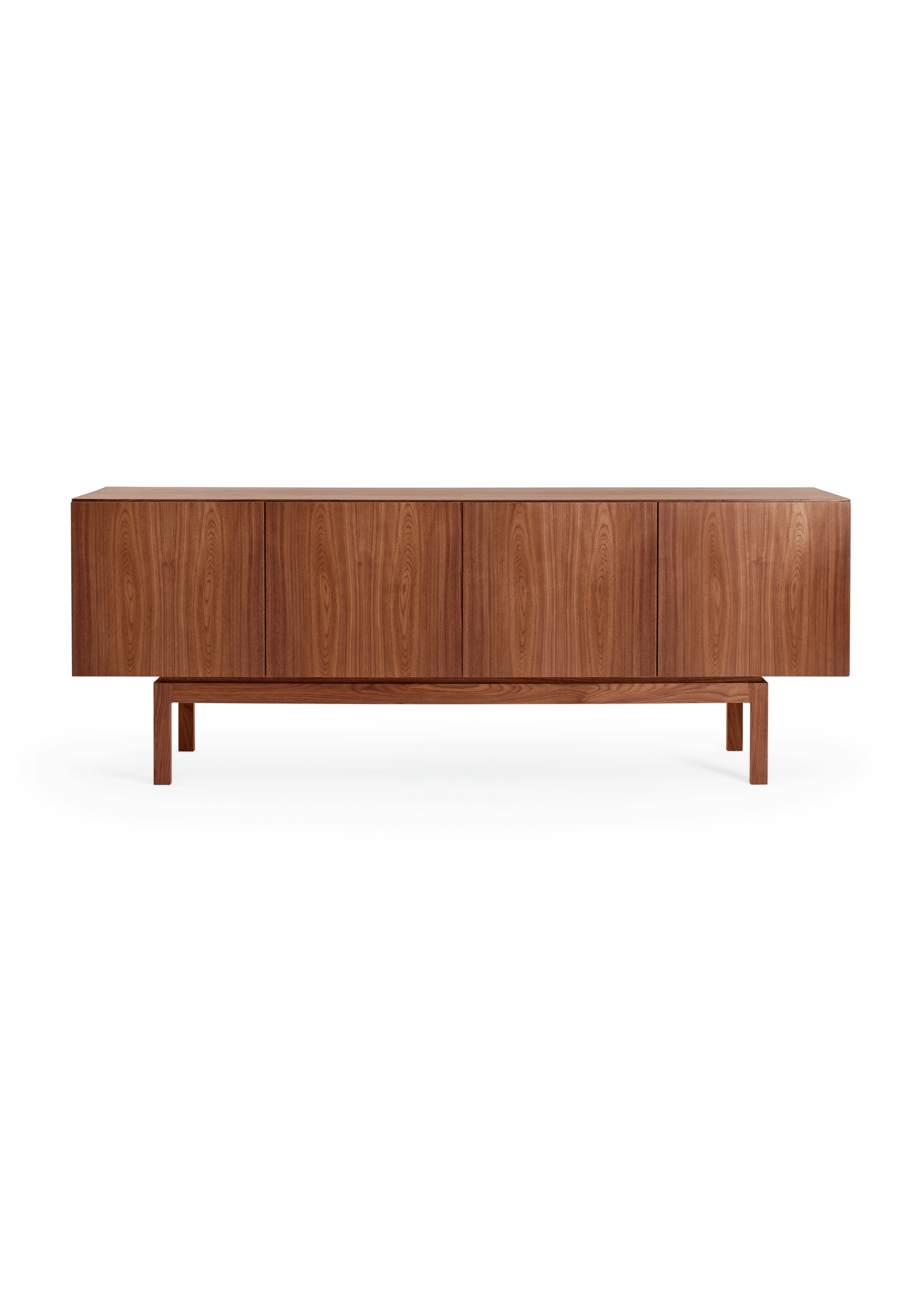 Sideboard No 183
by Bernh. Pedersen & Søn


Sideboard No. 183 is the third of the mid-century sideboards relaunched by Bernh. Pedersen & Son. The sideboard was re-launched in 2016.
The sideboard is available in oak, walnut, teak or rosewood in either oil, soap or lacquer finish. On request the piece can be custom-made in almost any type of wood. The dovetail trays come in two optional heights of either 5 or 11,5 cm and are easily adaptable to the left or right most section.
The sideboard was designed in 1969 and taps into the essence of Danish Modern with its clean lines, functional design and expert craftsmanship.
The sideboard features four doors and the interior of the cabinet is beautifully finished with adjustable shelves and a side section with optional pull-out dovetail trays for added storage. The integrated door handles are constructed in solid wood as are the base and legs. To add extra detail to the design, the legs are pulled slightly under the sideboard to account for skirting, making it possible to place the piece up close to the wall. With a veneered back it can also find great use as a room divider. The eloquent lines and high quality cabinetmaking are sure to make this piece of furniture look beautiful in any setting.
Every piece is made in Denmark and individually numbered upon final assembling.
Product category:
Sideboard with four doors.
Description:
Sideboard with tree sections; Two side sections and one large middle section. Furnished inside with two adjustable shelves. Side sections with optional shelves or pull-out dovetail trays in optional heights. The sideboard is veneered on the back.
Every piece is made in Denmark and individually numbered upon final assembling.
Design Year:
1969, re-launched in 2016
Material:
Oak, Smoked Oak, Walnut, Teak, Rosewood/Palisander
Treatment:
Soap, Natural Oil, White Oil and Lacquer
Shelves:
Two adjustable shelves
Tray hight:
2" and 4.5"
Dimensions:
L 83"
H 31.5"
D 20"
Please contact us for further information.