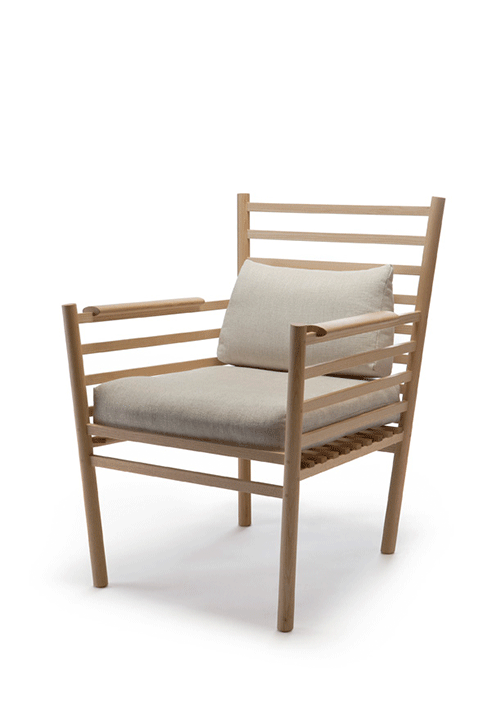 ARTE LOUNGE CHAIR RML1
by Rudi Merz
Produced by Nikari
The RML1 Lounge Chair is a functional contemporary piece that has been designed to stand out from the crowd.
Simplistic yet classic, the RML1 Lounge Chair consists of robust sharp edges and a distinctive linear composition. Bare ash wood combines with a softened color palette, flattering the chairs' natural aesthetic, whilst the removable seat pad provides the user with the option for extra comfort. Exquisite craftsmanship and a sustainable wood design contribute to this chairs timeless form and its ability to adapt to any residential or commercial space.
TYPE: Lounge chair
SIZE: W: 700mm, D: 760mm, H: 885 / 410mm
MATERIAL: Ash
TREATMENT: Natural wood oil mix
UPHOLSTERY:
Fabrics:
ROCCIA Trevira CS M1, 60° wash, 70 000 Martindale
BLUES Trevira CS M1, 60° wash, 80 000 Martindale
FLAMENCO wool 100%, dry clean, 60 000 Martindale
STEELCUT TRIO wool 90% nylon 10%, dry clean, 100 000 Martindale
Leathers:
ELMOESSENCE 33072 "pure light walnut" (brown)
ELMO VEGETA "nude"
We use natural tanned leather as our standard leather option. They develop a beautiful patina during the years.
It is not recommended to do any extra treatments for them when in use. Like all leathers without extra treatment, grease, moisture and exposure to light will darken the surface.
- removable upholstery
Lead Time: delivery time min 8 weeks. Please contact us for further information.